The Country was Stolen (2021)
Glasnost (2022)
The film The Country Was Stolen(2021, 35 min) is built on the ruins of the USSR and the impact these social changes had on one family. Talking with Danilov's mother, Ludmila Danilova, Oleg Danilov & Mathieu Hendrickx reconstruct the family history. Like many others, Danilova had to reinvent herself to be able to adapt to the new political and economical environment. In this film, her story is translated into a fictional museum exhibition of objects presented in cardboard boxes; as if they could move anytime. Danilova's words guide the visitor through the exhibition and reflect the way of life and worldview of the Soviet human in a period of transition, when an ideology is born on the ruins of the previous one.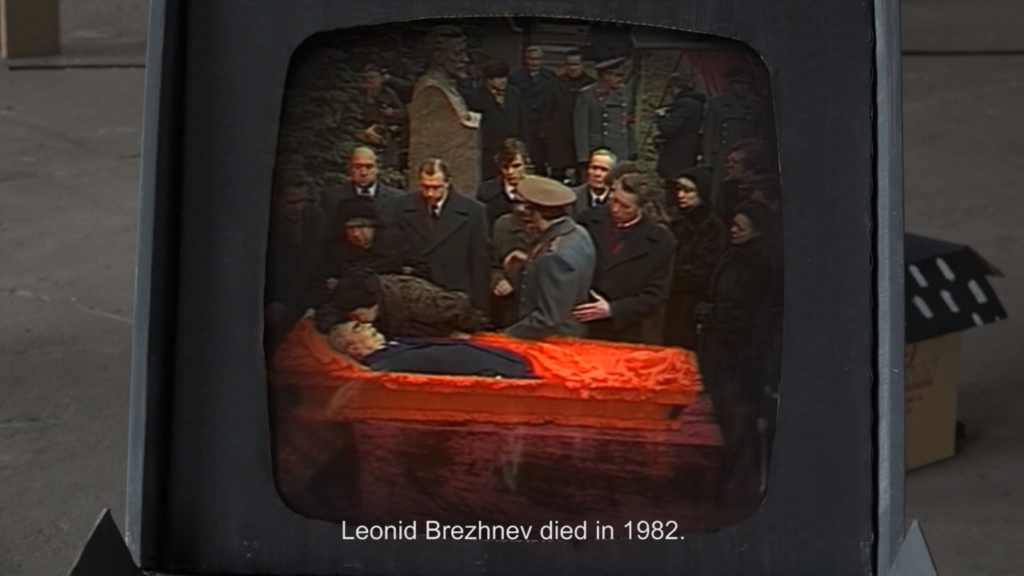 The opening quote of the film has inspired the Our Fluid Territories and its working title 'Then the Country Disappears:
First you are kicked out
That's okay
But then the country disappears
Then what? What's next?
Joseph Brodsky, 1995
In the exhibition context of Our Fluid Territories, the objects shown in the film will be protagonists of an installation.
The film and the installation will be activated by a performance Second Hand Time? (2022) in which Oleg Danilov & Mathieu Hendrickx refer to a long term stream of Russian propaganda & its psychological implications on Soviet, now Russian citizens. For decades, propaganda communicates this idea of being a victim of Westernisation, and also Putin plays on this feeling of victimhood, until it became part of this cultlike state of mind.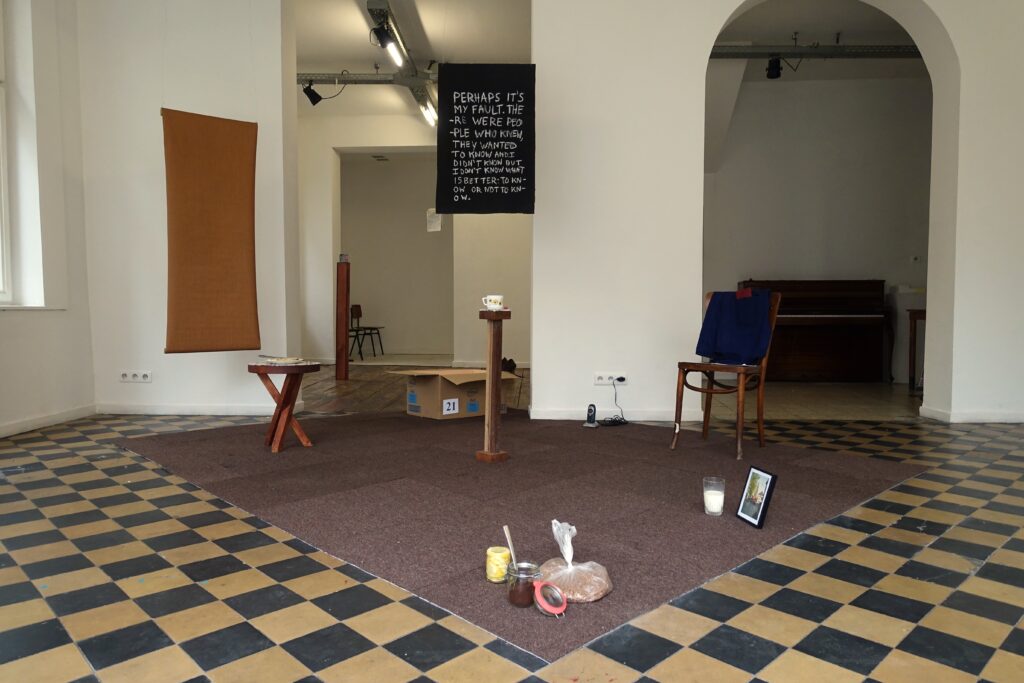 Oleg Danilov (Leningrad, USSR, 1991) studied photography in St. Petersburg (2008-2009) and film at LUCA School of Arts in Brussels (2010-2016, MA) and in Helsinki where he gained experience as an assistant cameraman shooting a number of short films. During and after his studies he worked on several film sets (lighting and camera department) of among others Spitsbroers (VTM), and as casting assistant for Kursk by Thomas Vinterberg, and Annette by Leos Carax. He also worked as a freelance photographer and videographer for Muntpunt, Museum M Leuven, Kadonation, Jules Clarysse, etc. In 2013 he founded Messervideo together with Mathieu Hendrickx, among others.
Mathieu Hendrickx (Oostende, BE, 1987) studied psychology (2006-2009) at the University of Ghent and visual arts at LUCA School of Arts in Brussels (2009-2013, MA). After his studies he founded Messervideo with friends – amongst which Oleg Danilov. His personal artistic practice oscillates between film and performance, where both fields inform one another. In his studio he produces and collects objects, sculptures, collage of texts, images and sounds that form an eclectic playground as a starting point for future works. Next to that, for more than ten years now, he's been looking at his own hands, other peoples' hands, and how they relate to one another.
www.instagram.com/thecountrywasstolen/