A Spectre is Haunting the Building (2022)
In the performance A Spectre is Haunting the Building (2022, 20 min.), Jesse van Winden (Netherlands, 1986) gives a local and performative form to his artistic research into histories of capitalism.
A spectre is haunting Europe, Marx and Engels wrote in the preamble to the Communist Manifesto: the spectre of communism. A spectre, a ghost, a wandering soul that finds no rest without a body – the Communist Manifesto was intended to give shape and voice to a new international movement.
Today, the mild, regulated "everyday capitalism" of the artist-researcher's youth, of the innocent capitalism of the neighbourhood store or the local construction company seems rather like a ghost from the past. A marginalized capitalism, that has been overtaken by a form that is difficult to fathom. Characterized by a privatized public sector, huge tax-free profits via opaque P.O. box constructions, hostile takeovers in the interest of shareholders without regard to the impact that their profit forecasts have on people or nature, and new opportunities in the increasingly abstracted realities of blockchains, NFTs and Metaverses – capitalism seems to have entered a new phase.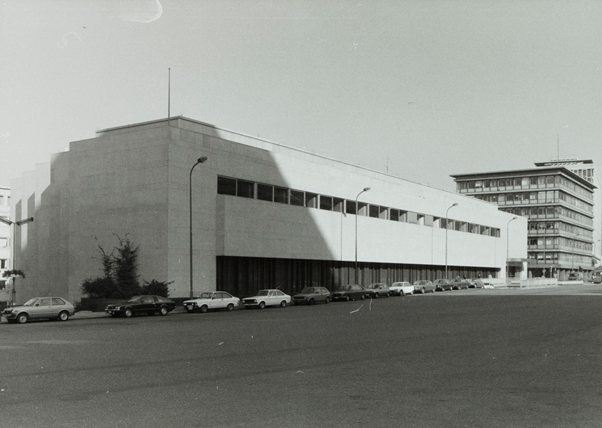 The building in which Our Fluid Territories takes place is the main character in this performative reading: constructed in the 1950s as a building for various public services (Department of Energy, the French-speaking Department of Education, etc.), it was an inconspicuous element at the National Administrative Centre in Brussels. In 1992, after extensive renovation, the building was reopened for commercial use, including bank offices, call centres and travel agencies. For a few years now, it has been rejected by the market. Newly arrived immigrants may use medical services here, and artist collectives rent workspace there at favourable rates. A spectre is haunting the building – the spectre of marginalized capitalism….
A version of the preamble to the Communist Manifesto, rewritten for capitalism, will be sung by Anya Kozachenko, a young Ukrainian performer who recently fled the war and is building a new future in Brussels, accompanied on cello by François Meulemans, a young bi-lingual Bruxellois.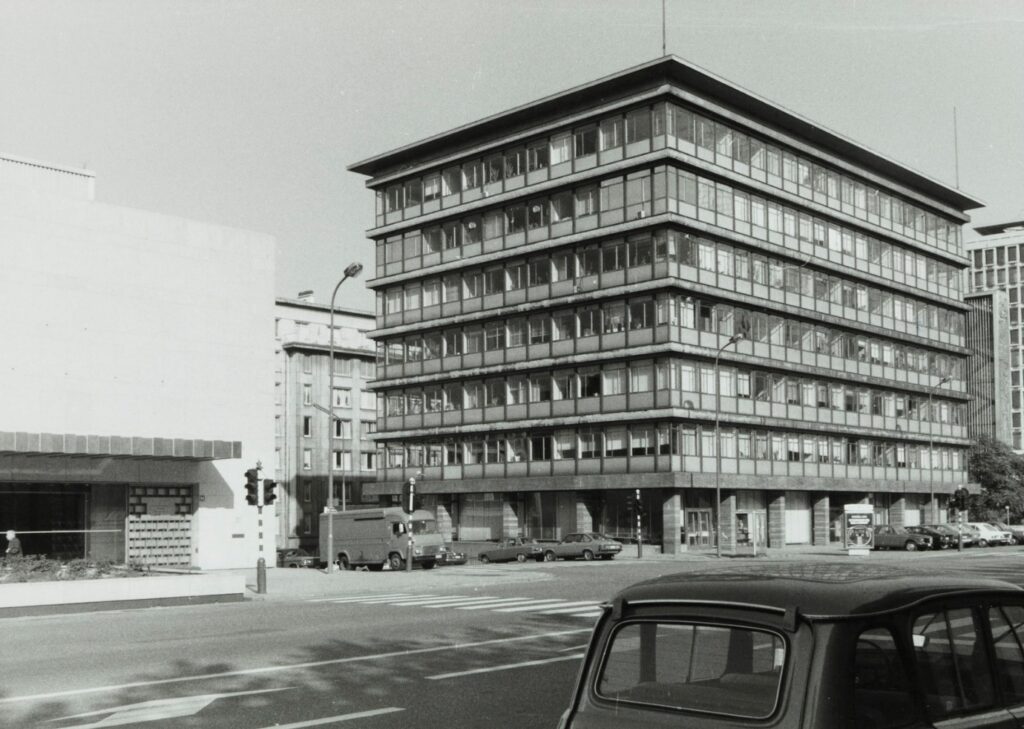 Jesse van Winden (The Netherlands, 1986) is a researcher without a training in visual arts practice. Trained as an art and architecture historian (Vrije Universiteit Amsterdam), he has worked on artist archives at the Universiteit Gent. Since 2017, he is a curator-researcher and coordinator at Jubilee, an international artist-run platform for artistic research in Brussels. Here, he has developed his own artistic research practice on histories of capitalism under the working title ' Why did everything become so expensive?' During lecture-performances at Meyboom Artist-run Spaces, he tested his method of combining archival research with participatory transfers of knowledge with audiences.